Our goal is to bring you the highest unrivalled standards of kitchen design, product and service at a competitive price.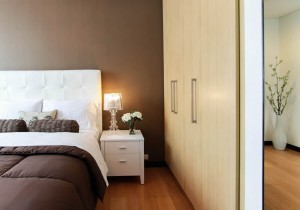 Prague Ivory Beautiful Fluted rail cornice, reeded pilasters and fretted frames combine to create a sophisticated and elegant bedroom. French fabrics known as 'toile de jouy' and 'ticking' add the perfect finishing touches.
Slab Dark Walnut The Dark Walnut effect Slab doors create a rich expensive feel to this bedroom. The square design in the headboard is mirrored in the centre doors giving a clever designer touch. Dramatic bed linen in tones of chocolate and duck egg completes the look.
Paris Loire Ash Loire Ash Paris doors are the perfect choice for those who want a wood grain that won't in anyway darken the space. the clever design maximises storage without overpowering the room.